Make space to enjoy
Glass Balustrades
Enjoy your own outdoors. Balustrades for your balcony, patio, terrace or garden.
THE GLASS BALUSTRADE: STYLE, ELEGANCE AND STRENGTH
Get an Online Quote
Step 1: Select your configuration:
Balustrades with Handrail systems
Balconette's unique Hybrid® system requires few - or no - uprights

*Click a picture to see our balustrades gallery
Hybrid® is a unique, aesthetic and cost-effective new category in balustrading design which brings to the market the advantages of two product styles in one system.
Sitting between the traditional alternatives of post-supported balustrades and high-end structural glass systems, Hybrid® provides the open views of frameless glass but at a fraction of the cost.
The Hybrid® system enables wide runs of glass with no, or few, vertical posts. Its ease of installation and lower cost bring the very high-end look into range for many projects for the first time. The innovative engineering design at the heart of Hybrid® uses invisible bracing within an elegant self-supporting handrail. See more about the Hybrid® system here.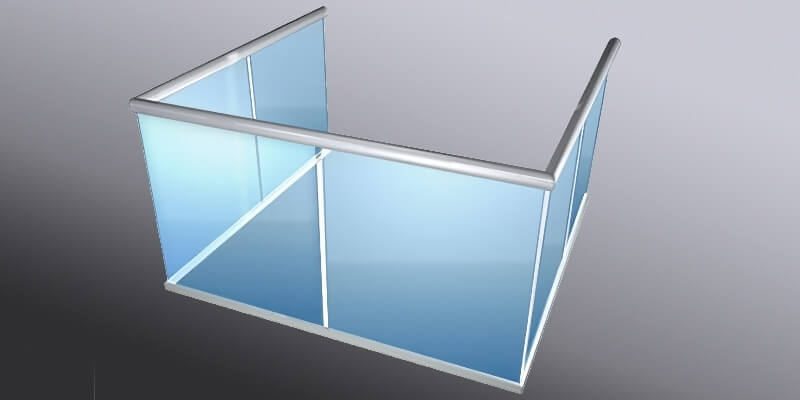 The Orbit Handrail
Hybrid® Orbit has an aesthetic circular handrail profile that enables spans of up to 3.3 metres without posts (when the Orbit handrail is attached to a wall or other structural element).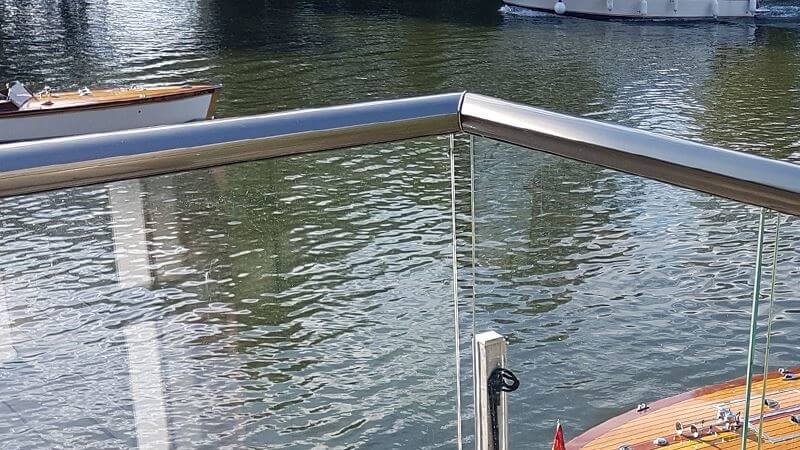 The Aerofoil Handrail
The Hybrid® Aerofoil system has a contemporary wing-shaped handrail. It offers uninterrupted views of up to 4 metres without posts when attached to a structural element. Where the Aerofoil system turns a corner, the postless spans can be even longer: a three-sided balustrade square can extend up to 12 metres without posts.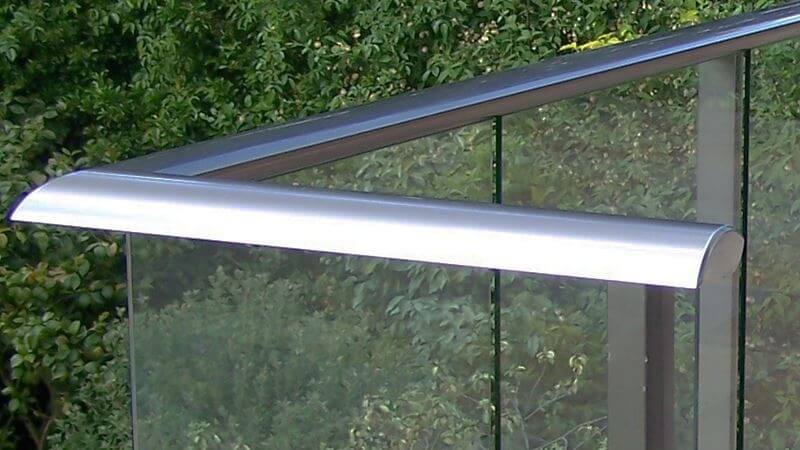 All handrails are made from anodised aluminium, giving excellent structural stability, and scratchresistance. They are rust-free, even in challenging coastal conditions. Stock colours are shown below. For larger orders a full range of RAL colours is available.

Thickness
Our balustrades standardly come with 10mm clear toughened glass. - other options are available.
Tints
They can be supplied with a choice of different tints: clear, green, grey, bronze and blue.
Self-Cleaning
All glass types can be supplied with the unique double sided self-cleaning glass coating. This is a nanocoating applied to both sides of your glass. It repels water and dirt, which generally just slides off the coated glass. The coating lasts from 3-10 years.
See more about our Balconano self-cleaning coating here
Frameless Balustrades
*Click a picture to see our balustrades gallery
Frameless glass (also known as structural glass) gives the ultimate in unobstructed, wide-open views.
They use double-sheet laminated glass, and require a bottom support channel which can mounted in different ways - see below
No handrail is required, but a thin eliptical rail can be attached to the top of the balustrade.
Recessed mounting
The support channel sits beneath floor level, so is completely invisible.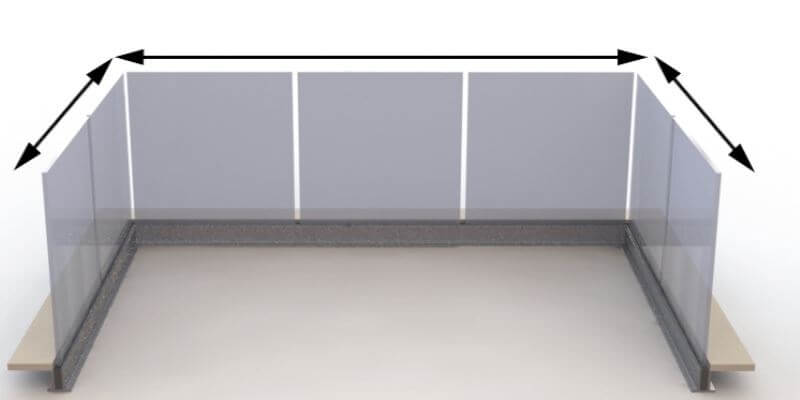 Surface mounting
The support channel sits on top of the floor level. This option is more suitable in cases where digging a channel into the floor is not practical.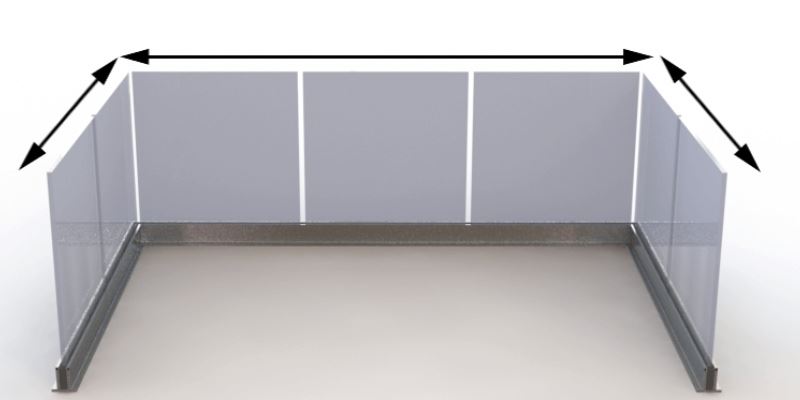 Frameless systems are usually supplied with 2.15mm Laminated Toughened clear glass. Other options are only available by special order - talk to one of representatives for details
More Information
We offer a variety of services from supply-only to a full supply and installation package on larger projects. Use our easy online pricing to get an immediate price on your balcony sizes, models and available options. Also feel free to call one of our friendly experts if you have any questions.
Gallery
Browse our Balustrade gallery for inspiration for your project. We can also arrange for you to visit a BALCONETTE installation in your area.
GLASS BALUSTRADE SYSTEM TYPE OPTIONS
Choose below from the different systems, each system gives its own advantages and options, ranging from the classic Balcony System through to the fully frameless.
| | |
| --- | --- |
| This system allows for up to 3.3m of glass without posts when it is fixed between walls. When posts are required, they can be up to 1.9m apart | This system has a unique and stylish aerofoil-shaped handrail. It allows for 4.0m of glass without posts when fixed between walls and when posts are required, they can be up to 2.1m apart. |
| The SG12 Fully Frameless system allows for 100% uninterrupted views without even a handrail line. There are no limitations of lengths or sizes and requires no posts or handrails at all. | The Frameless glass balustrade with top rail has only a beautifully designed elliptical handrail on top and uses 21.5mm clear toughened glass. |
| Frameless glass balustrades for balconies, a decking area or mezzanine create an almost invisible barrier between the viewer and the view. | The Frameless glass balustrade with top rail has only a beautifully designed elliptical handrail on top and uses 21.5mm clear toughened glass. |
RAILING COLOUR OPTIONS
Available in 4 standard colour finishes: White powder coating, Silver Anodised, Bronze Anodised and Balcony Systems' Proprietary Royal Chrome Anodised finish. All finishes come with Balcony Systems' 10 year Guarantee.

GLASS TYPES
All standard size glass balustrades come with 10mm clear toughened glass. Custom balustrading can be supplied with a choice of different tints: clear, green, grey, bronze and blue. All glass types can be supplied with the unique double sided self-cleaning glass coating.

WHY BALCONY SYSTEMS' GLASS BALUSTRADES
Maintenance free
Easy to fit
No glass clamps
Minimal posts required
No corner posts
Super strong and tested system
The most proven track record
Curved option are readily available
Very reasonably priced

THE GLASS BALUSTRADE
There is no doubt that a glass balustrade adds elegance to any home or commercial property. A glass banister, glass balustrading or a glass balcony, are stylish features that work handsomely in almost any decorative or architectural context. They combine their own beauty with less obstructed views and the practicalities of wind-breaking, durability and easy cleaning and maintenance.
But technology has moved forward in the direction of better glass balustrade design and greater flexibility of choice.
THE TECHNICALLY IMPROVED GLASS BALUSTRADE
By making technical improvements in the design of the glass balustrade structure we have been able to integrate the strength of precision-engineered handrail profiles, lighter glass and strong supporting base. The result is light, strong state-of-the-art glass balustrading that requires very few, and in some cases no, vertical supports.
These improvements mean we can offer you a more versatile range of glass balustrade design options. The "wow" factor of glass balustrades, the sense of uncluttered spaciousness and clean lines of a glass banister or glass balcony and a wealth of stylish options are now yours, even on a limited budget.
LESS EXPENSIVE GLASS BALUSTRADE OPTIONS
Combining our technical advances with traditional concepts, we can offer four basic glass balustrade designs. They range from the all-glass system through less expensive alternatives. Yet we retain the desirable visual appeal of all-glass balustrading and provide a wider range of aesthetic and financial opportunities for you to achieve the effect you want to create.
THE CURVED GLASS BALUSTRADE
Included in that choice is one of its most appealing features: beautiful curved glass balustrading. Please see our picture gallery of glass balustrade designs we have installed across the UK.
THE EASY-TO-INSTALL GLASS BALUSTRADE
Our balustrades are straightforward to install and fit but you can choose whether to go for supply-only and install the balustrade yourself or, depending on where your project is, we may be able to recommend a Registered Partner who can install for you.
THE MAINTENANCE-FREE GLASS BALUSTRADE
Our glass balustrading is tough, resilient and virtually maintenance-free. Even keeping it clean is easy, particularly if you choose the option of our self-cleaning coatings.

GLASS BALUSTRADE HANDRAILS
The secret of how we have combined lightness and strength in our innovative glass balustrading lies in large measure in the design of the aluminium handrail. Yet the strength incorporated in the handrail has not impaired the creation of beautifully shaped rails with a choice of attractive and hard-wearing finishes that have better resistance to staining, weathering and tarnishing than stainless steel.
GLASS BALUSTRADE COLOURS AND SELF-CLEANING COATING
The glass for our balustrades has a choice of four different tints. It can also be supplied with a unique double-sided, self-cleaning coating.
Our glass balustrade systems can be used on balconies, banisters and decking. They provide strong, beautiful and cost-effective alternatives to traditional railings or other glass balustrading systems with considerable practical and financial advantages.
We are always pleased to provide assistance and technical support and to answer your questions promptly. To find out more about our glass balustrade systems, please contact us.
Glass Balustrades applications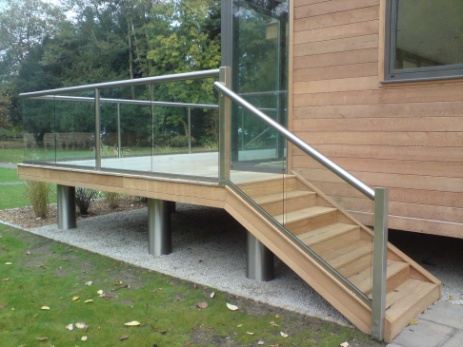 The Balcony System Glass Balustrade is a unique glass balustrade system, mainly relying on the strength of the handrail and thus allowing wider spans of glass than any other balustrade system.
The Balcony 1 System Balustrade has a 70mm diameter handrail and with the new 72X72mm square Newel post can be used on stairs.
The principle of the system remains the same using the combined strength of the precision engineered handrail profiles and the strength of the glass.
Read more about Stairs Runs Glass Balustrades>>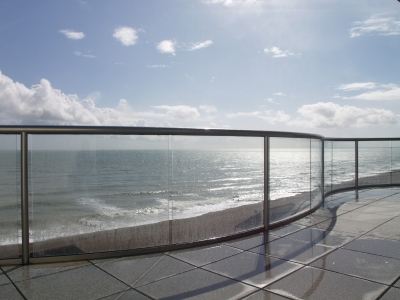 Royal Chrome anodizing is the process we at Balcony Systems use to create a special anodized finish that has all the traits of anodized aluminium yet has the finish which looks like polished stainless steel.
When a railing profile is used in the manufacture process of balustrades and handrails it requires to be notched, cut, tapped and drilled. These processes will of course penetrate the protective anodised layer. The beauty of using aluminium profiles for railings lies in the natural traits of the material.
Read more about Anodised aluminium railings>>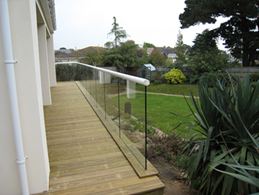 When glass of a balustrade is not just used as an infill panel but is also used as the actual structure of the balustrade it is often referred to as a structural glass balustrade. It also sometimes referred to as a frameless glass balustrade or a cantilevered glass balustrade.
The basic idea is simple and the same throughout all types of structural glass balustrades and is based on two engineering principles; a strong base that can clamp the glass panel with thick and strong glass panels that can resist the bending moments and loads imposed on it.
Read more about Structural Glass Balustrades>>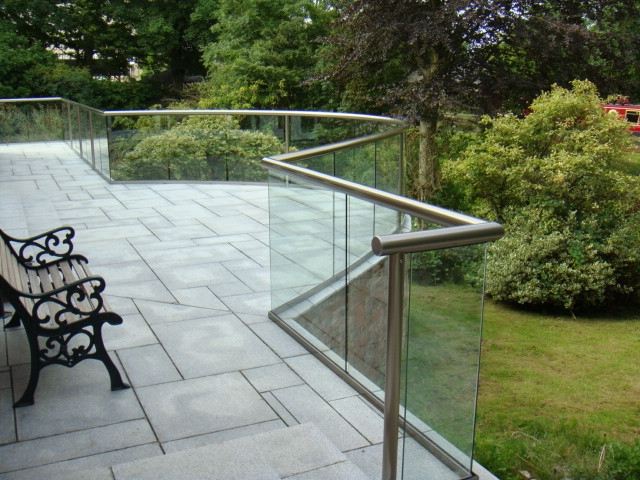 Balcony Systems balustrade is a type of a Hybrid system meaning it's combining two types in one. Our balustrade combines the strength of the handrail, glass and when needed posts, it is unique in nature and no other system on the market works in this fashion, and as such it allows different options than the other systems.
There are a number of principles that the Balcony Systems Balustrade is built upon, the main ones are listed here below, these are sometimes used in combination withone another.
Read more about Balcony Systems Balustrades>>
MORE ABOUT GLASS BALUSTRADES