Semi-Frameless Glass Balustrade
Tech Specs | Installation | Gallery | Projects
The SG12 system comes in two options Semi-Frameless and Fully Frameless. The Semi Frameless glass balustrade has only a beautifully designed elliptical handrail on top and uses 21.5mm clear toughened glass. The SG12 frameless system allows for uninterrupted views without limitation of lengths or sizes and requires no posts at all.
Get an Online Quote
Choose below the number of sections on your balcony for an instant online quote.

SG12 Semi Frameless Balustrade System
Semi Frameless Glass Balustrade Section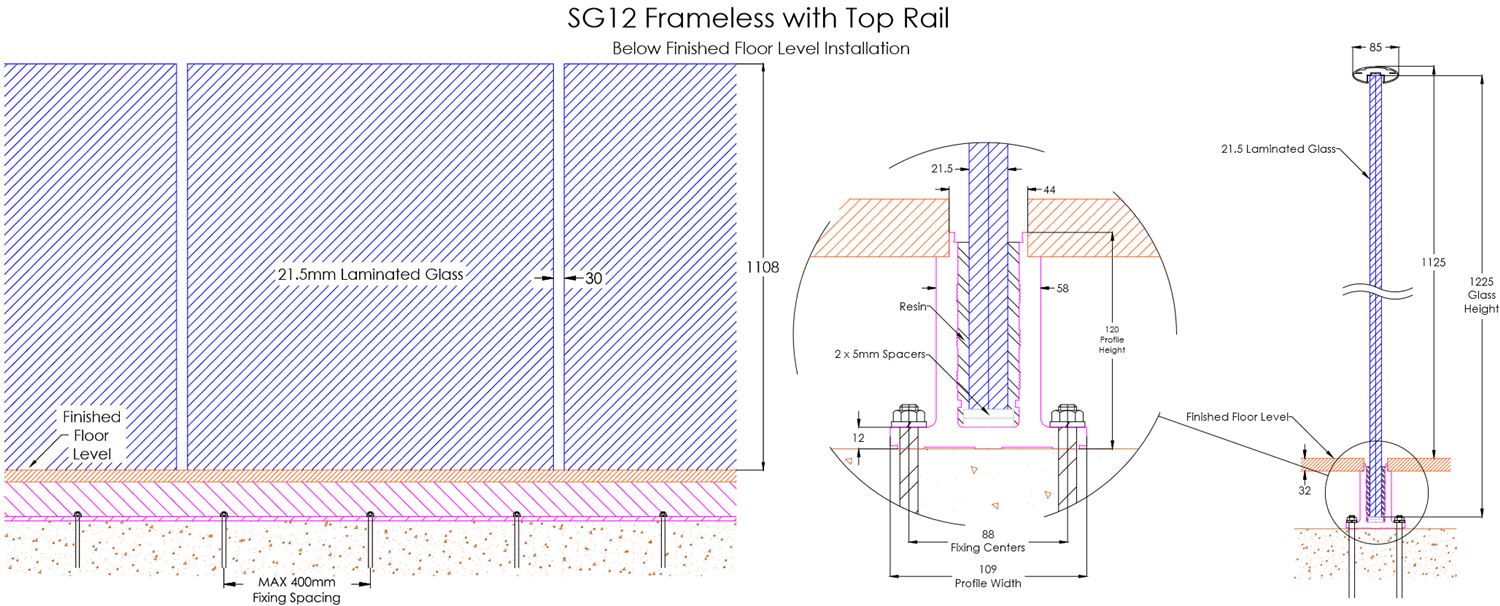 ​
Semi Frameless Glass Balustrades Installation
The below is a concise summary of how to install the Balcony SG12 Semi-Frameless System.
Install the base track in the position you require, fixing it firmly to the structure.
Make sure the rail is closed off on the edges and seal any gaps on the end or where there are joins in the base track. (the resin that holds the glass is liquid and you want to ensure it does not have anywhere to leak out of the base track)
Identify the glass panels and where they each go.
One at a time place glasses in position.
Use small glass packers or wedges to hold the glass vertical against the base rail.
Using two small wood pieces clamp one glass to the previous to create a straight line.
When all glasses are in position and lined up, place the handrail on top of the glasses.
Using the glass resin provided mix the two components and carefully, and slowly pour the resin into the base track. Please note that the resin is self-levelling. Reaction time is dependent on temperature and humidity; the warmer it is the faster it will cure. The resin has quite a thick viscosity and you should plan your work so you can complete pouring areas or runs continuously before it cures. (If doing sloped runs a different resin or material needs to be used and not a liquid one)
Let the resin cure for at least 24-48 hours before any contact with the balustrade.
Lift the handrail up from the glasses.
Silicone the underside of the handrail and replace so that it glues it to the top of the glass.