Interior Glass Railings
Glass Balustrades | Juliet Balconies | Curved Glass Doors | Decking | Projects | Galleries | Articles | Reviews
Whether you're upgrading your property or building from scratch, few things create such impact as interior glass railings. They can be a feature in themselves or can be designed to blend seamlessly with your building's structure, letting quality architecture shine through.
Switching in glass banisters creates the illusion of extra space and opens up your property for a spacious and contemporary appeal. As effective in cutting-edge new builds as they are in heritage and period properties, a well-planned interior glass balustrade lets you fully appreciate your interior and helps light flood into your rooms, transforming the way your building feels and the way you use your home. No more dark and dreary corners or cramped hallways; installing glass banisters turns the so-so into something breathtaking.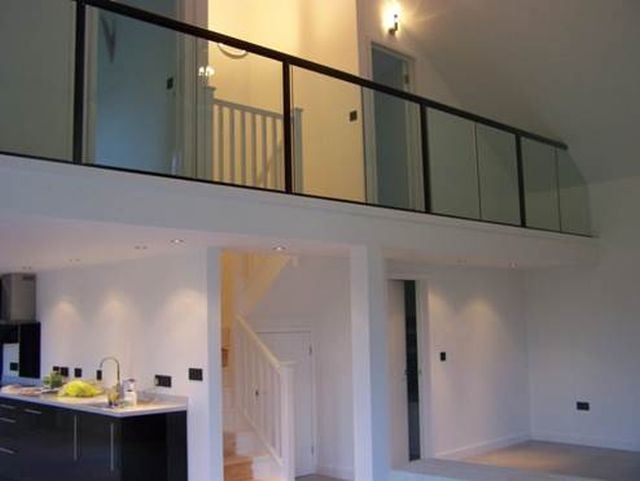 Interior Glass Banisters for Landings
Fit interior glass banisters and turn your upstairs landing into a talking point. They're a beautiful way to help your home flow more naturally. No longer just passageways, your landing becomes an extension of your living quarters. Home to a study area perhaps or a cosy reading nook, and light enough for houseplants to thrive and enhance your home.
Made with toughened safety glass, interior glass banisters are a safe and secure addition. All of Balconette's interior glass products are made to the same demanding quality as exterior balustrades, making them strong, sturdy and durable. In fact, with a ten-year guarantee on the banister profile finishes, you can rest safe in the knowledge that they'll be looking good for many years to come.
Interior Glass Banisters for Mezzanine Levels
Adding glass banisters to your mezzanine level provides a sometimes-neglected area with visibility without risking safety; especially important for homes with pets or children. Whether your mezzanine is in a redeveloped commercial property, period or heritage building, interior glass banisters complement existing plans and help you maximise the beauty and impact of original detailing such as high ceilings, industrial features or centuries-old brick and stonework.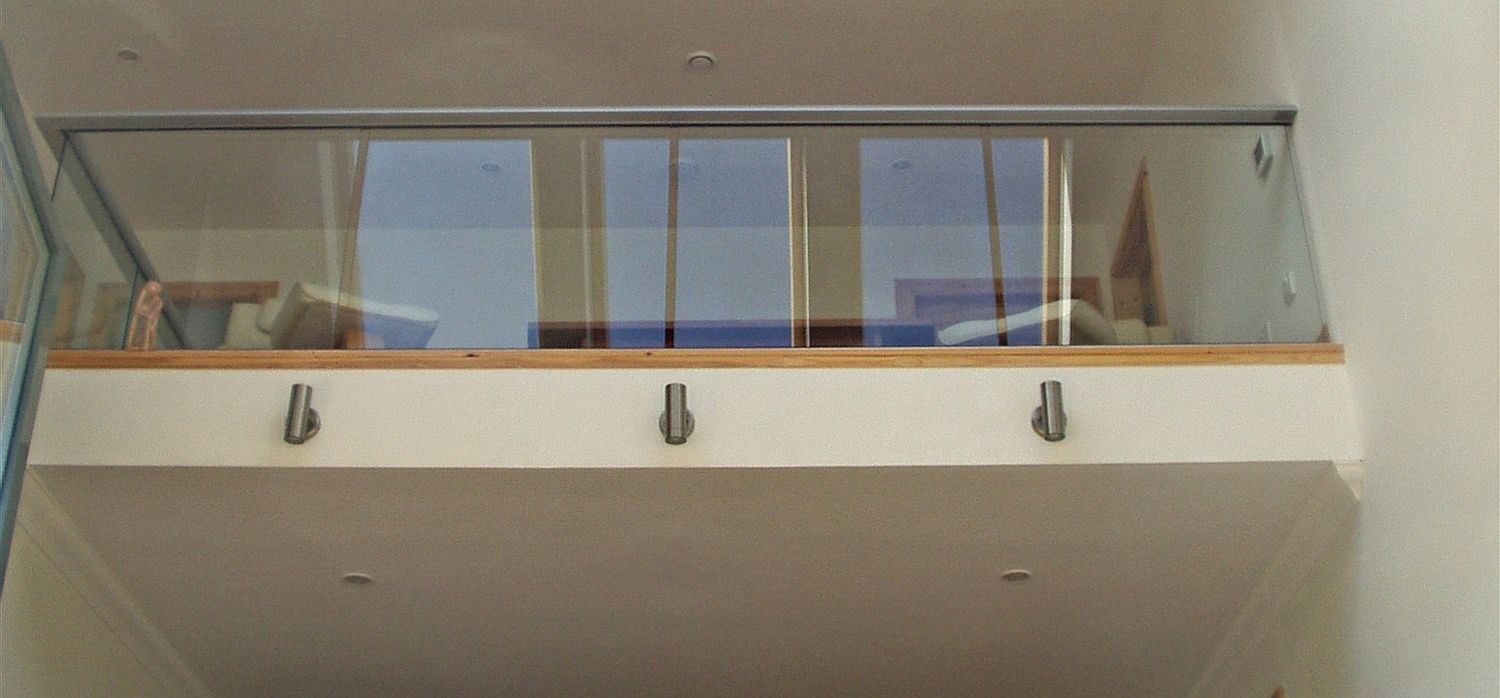 ​
Interior Glass Banisters Options
Choosing your interior glass banisters from Balconette means a wide choice. You can choose between two handrail options; the more traditional cylindrical "Orbit" handrail system, and the contemporary curved lines of our "Aerofoil" handrail system. Tell us what you'd like your glass banisters to look like, and we'll cut the glass to suit your specifications and curve glass and handrails to your design. Glass banisters are as suitable for elegant curved landing areas as they are for simple straight mezzanine levels. And with a choice of glass tints and handrail colours, you'll be on your way to a truly outstanding property.
Fitting & Maintaining your Interior Glass Banisters
Fitting your interior glass banisters is a simple task for the experienced professional or self-builder. With full PDF instructions available to download and clear step-by-step videos, you'll find all you need to fit your interior glass banisters on our website. And if you find you need extra guidance then our practical and helpful customer service team are on hand to help.
Maintaining your glass balustrades is simplicity itself. Just clean with a cloth and regular glass cleaner. And if you choose glass that's pre-treated with our proprietary self-cleaning glass coating - BalcoNano® - you'll find they're even easier to clean. A damp cloth will remove the inevitable fingerprints and smudges with ease, which is a relief if pets and children are a regular feature in your home.
Want to know more? Visit our website to see our full range of options. If you're looking for something more particular to suit custom requirements, then talk to our customer service team who will be able to advise you on price and timescales.