Commercial Glass Balustrades
Commercial Glass Balustrades
Glass Balustrades | Juliet Balconies | Curved Glass Doors | Decking | Projects | Galleries | Articles | Reviews
What are your options?
Commercial balustrades are a hardworking part of any commercial building. At their simplest, they provide safety, but have the potential to do much more. Chosen well, commercial balustrades can enhance the architecture and interior design of your property, improve the flow of light, grow employee productivity and help visitors navigate your property.
With the potential to help in so many ways, it's good to know that there are a variety of commercial balustrade options available.
Where can you use a commercial balustrade?
You can use a commercial balustrade in almost any location. They're very popular on mezzanines, terraces and balconies. They also work well when used for Juliet balconies and ramps. Unlike walls or partitions, they look unobtrusive and let light flow through your property, helping reduce lighting costs and improving the overall ambience.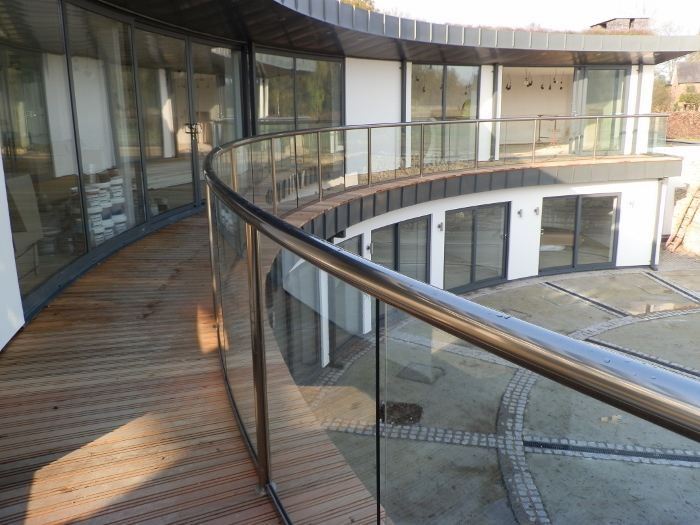 Framed Commercial Balustrades
Framed commercial balustrades are justly popular. They're adaptable, strong and cost-effective. With supporting posts and handrails, they have a reassuring, no-fuss appearance that is unobtrusive and practical. They're very flexible and you can situate them in almost any location and in any configuration; you can even install curved balustrades.
Balconette framed balustrades are made with toughened 10mm glass and anodised aluminium and exceed British Safety Standards.
Structural Glass Commercial Balustrades
If you want a more contemporary look, structural glass balustrades – also known as frameless balustrades - are an attractive solution. They look modern and stylish thanks to their barely-there appearance. Despite looking ultra-modern, they're particularly suitable for refurbished industrial buildings – their discreet presence lets the drama of the original architecture shine through.
If you like the reassurance of a handrail but want the leading-edge appearance of a structural glass balustrade, consider a semi-frameless balustrade. They have clean lines with the reassurance of a handrail placed on top of the structural glass. They're especially reassuring for terraces and balconies at height.
All Balconette structural glass balustrades are made with 21.5 mm laminated, toughened glass and exceed British Safety Standards.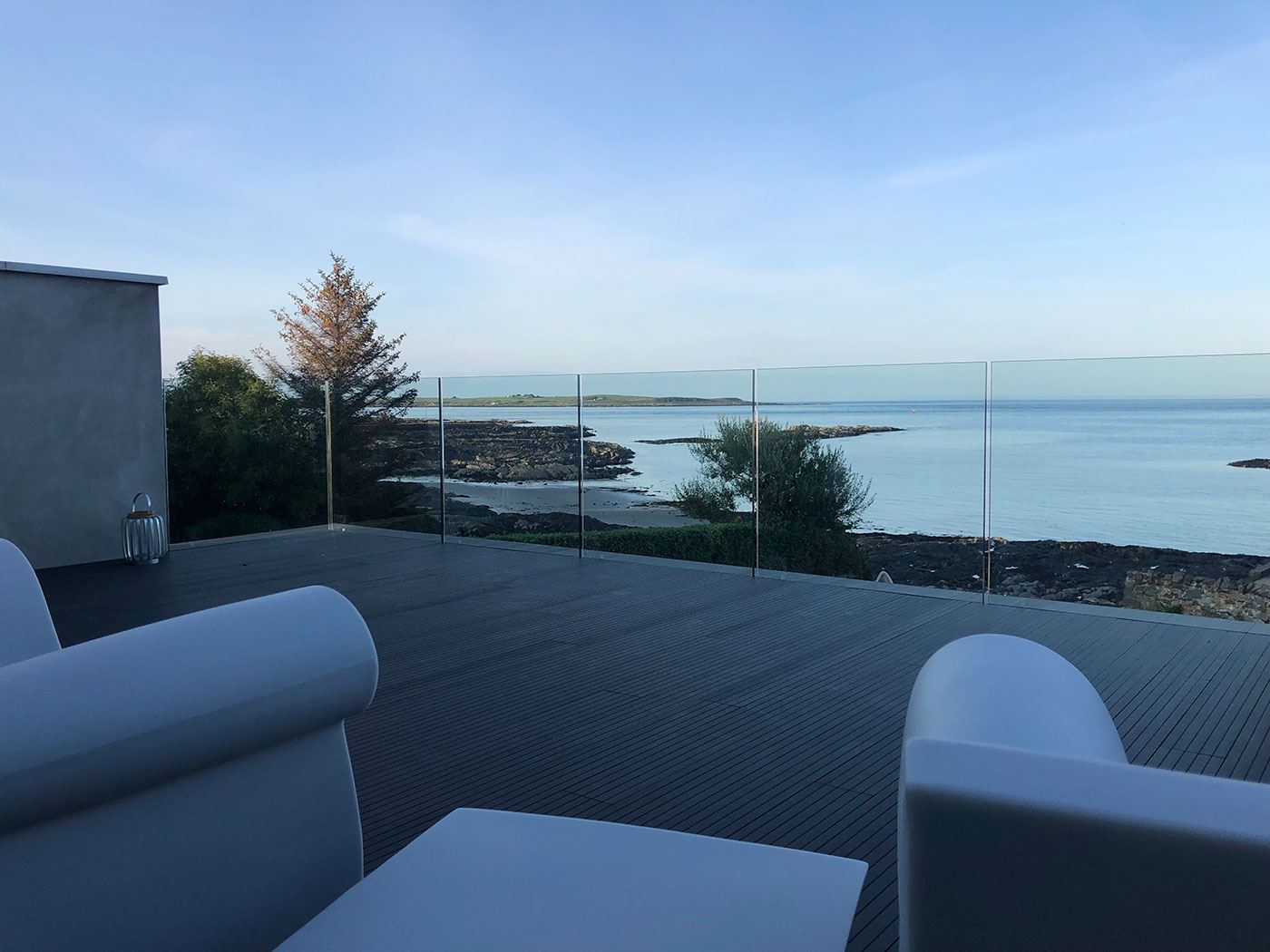 Handrail options
Choose your commercial balustrades from Balconette and you'll have a wide choice of handrail options. Our classic Orbit handrail has a traditional appearance that suits most environments. It's a default look for commercial balustrades – and will stay looking good for many years to come.
Our more contemporary Aerofoil handrail has a sleek, curved profile. It's a great way of adding extra modernity to your commercial property. Just like the Orbit handrail, it's made of anodised aluminium for durability and good looks.
Our balustrade handrails are available in a choice of four finishes – our proprietary anodised Royal Chrome finish with its polished "stainless steel" appearance; our matt silver or bronze anodised finishes or white powder coated, which are all long-lasting without regular maintenance.
What are the glass options for commercial balustrades?
Although clear glass is a classic choice for commercial balustrades, you can also select from a choice of glass tints. Choose a colour that supports your company's brand or adds more interest to your building.
Alternatively, you may prefer privacy glass to help separate areas more distinctly and provide a sense of extra seclusion. It's especially helpful in shared commercial properties if you accommodate multiple businesses in the same building.
Balconette supplies clear glass and privacy glass as well as green, bronze and grey tinted glass.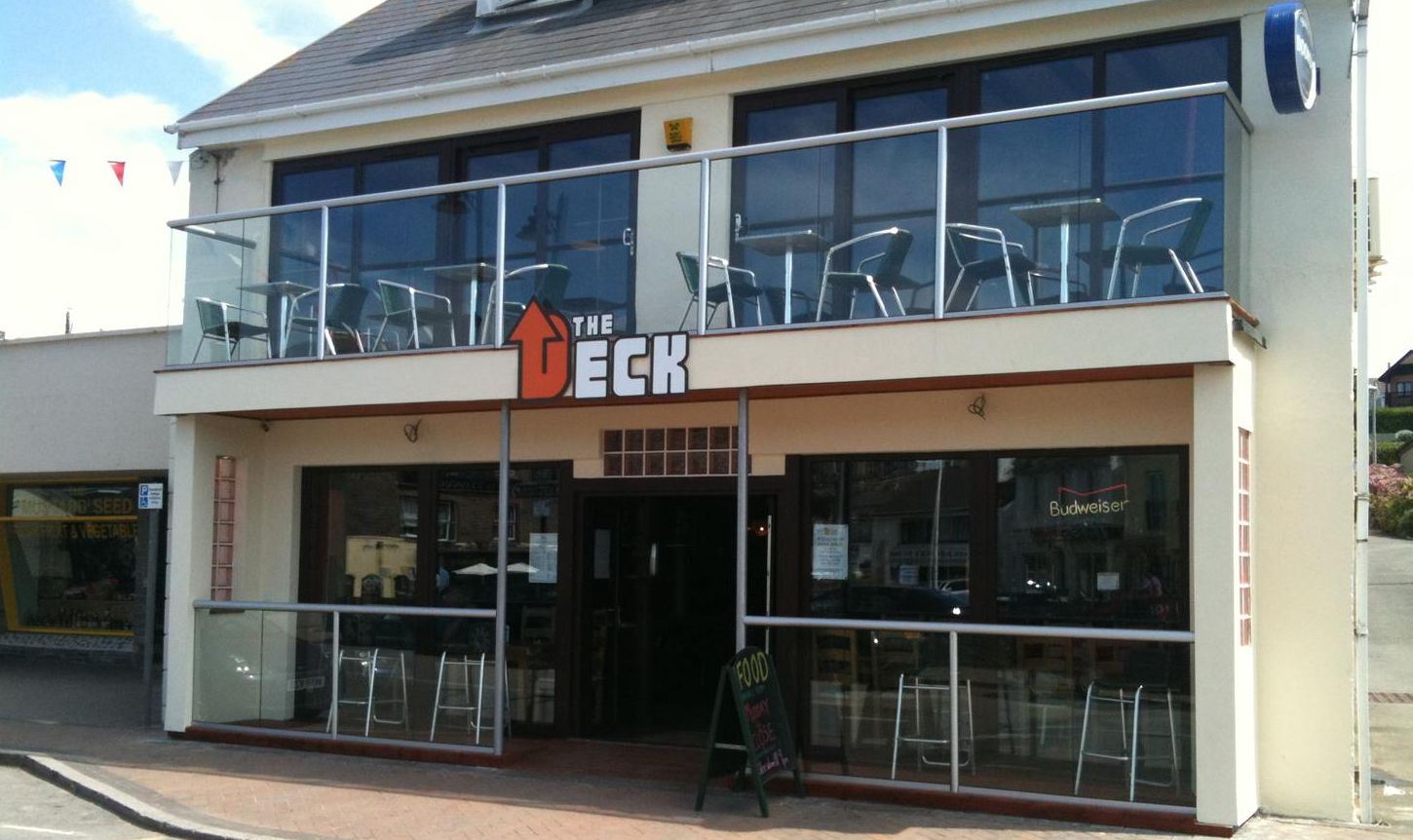 ​
How much maintenance do commercial balustrades need?
Choose carefully and you can keep the maintenance of your commercial balustrades at a minimum.
At Balconette our balustrade finishes have a 10-year guarantee, so you know they'll stay looking good regardless of what the weather throws at them. They're even guaranteed in harsh coastal locations – so they're perfect for seaside properties that need to deal with the worst of our British weather.
Back up your 10-year guarantee by choosing glass coated with Balco-Nano® self-cleaning glass coating. By creating a perfectly smooth surface that dirt and minerals cannot cling to, balustrades treated with Balco-Nano® stay cleaner with less effort on your part. They're especially helpful for hard to reach areas as well as places that will attract a lot of dirt such as balconies or terraces.
Learn more about our range of commercial glass balustrades by visiting our website.