Glass Balustrade telescopic post features
Glass Balustrade telescopic post features
Glass Balustrades | Juliet Balconies | Curved Glass Doors | Decking | Projects | Galleries | Articles | Reviews
Early installation
An additional and important feature of the Hybrid Glass Balustrade system we manufacture, that relates to installation on new build sites, is the unique feature of the posts. The fact that Balconette's balustrade posts are made of two parts with an adjustable (telescopic) feature between the parts.
How the Hybrid Balustrade System Posts Work
With these unique posts:
You can install the structural post at an early stage of the build enabling access and solid fixing to structure plus the waterproofing of the balcony.
You can hide all the fixings beneath the finished floor level, beneath the screed, beneath the decking and have just the system on show afterwards.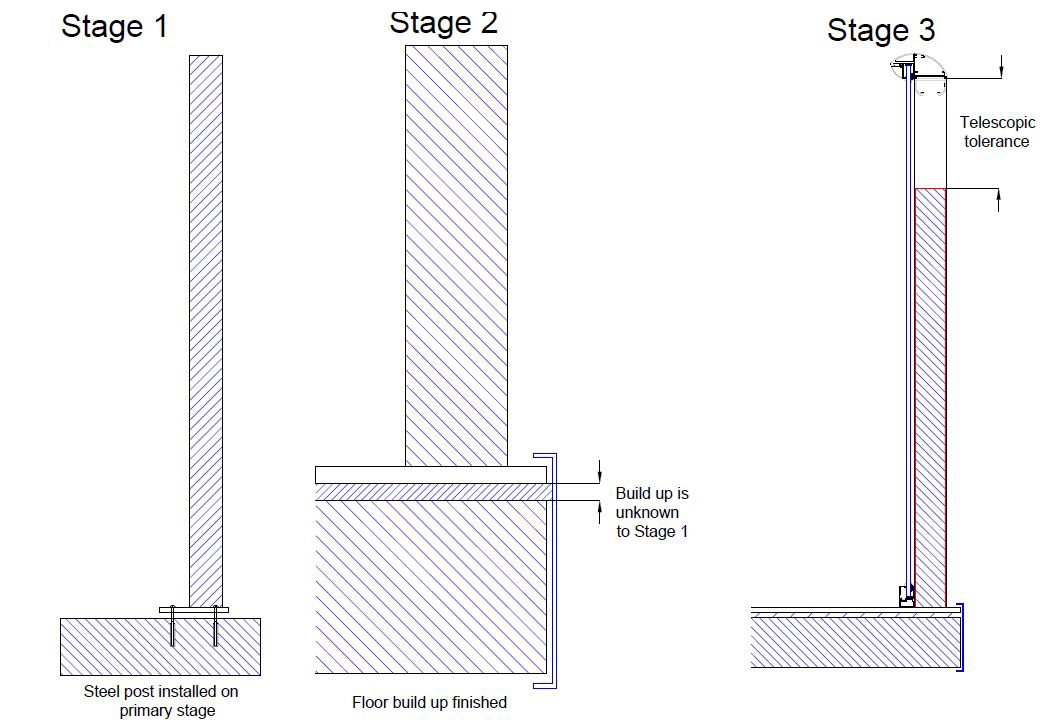 Flexibility in design
This gives a great amount of flexibility in design. Many times you will not know don't the final finished height of the floor and therefore don't know where to fix or locate the final finished heights. With our system you don't need to know.
The posts are a telescopic system so that the cover post or sheathing post as sometimes referred to) slides on top of the primary structural post and you are not required to know, at the initial stage, the final height.
Once all floor make up is complete the primary post will be covered by the system and this in turn is made to the correct height, the hidden structural post will be inside the cover post and this flexibility gives a lot of freedom in the ability to pre-install our posts.
Types of posts
The Orbit posts are circular in shape and so the primary structural post is also circular. The posts on the Aerofoil system are rectangular in shape and so the insert post is also rectangular. The primary posts on both systems can be supplied with a base plate, or without for diamond drilling.
The Orbit system posts sit on the centre line of the glass so the glass must stop between posts. On Aerofoil system however the glass sits in front of the post. The post sits and fixes to the rear part of the handrail and so that it doesn't interrupt the line of the glass.
The Orbit post is 150mm x 150mm. On Aerofoil the base plates are larger. They are 170mm by 150mm.
If posts are installed above floor level we can also supply base plate covers for the base plates. (please note these are always supplied in a Royal Chrome finish)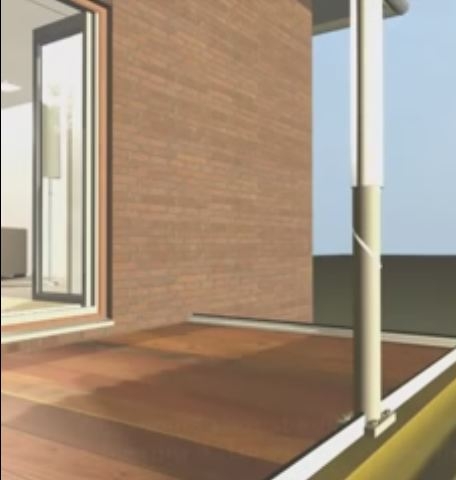 Parameters of the Aerofoil - Hybrid Balustrade System
Parameters of the Orbit - Hybrid Balustrade System