ARE THERE LIMITATIONS TO THE SIZE OR LENGTH A CURVED DOOR SET CAN BE MADE?
Are There Limitations to the Size or Length a Curved Door Set can be Made?
​
Curved Glass Patio Door Size Limitations
We have developed a large variety of options and models to choose from. These models combine between sliding and fixed panels. In this way very large openings can be made. We have made door openings of 19.0m in curved length. Please contact us to discuss your requirements and we can help design the best combination for your needs.
​
Related FAQ Videos: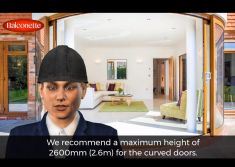 ​
What is the Maximum Height You Can Make Your Curved Glass Sliding Doors?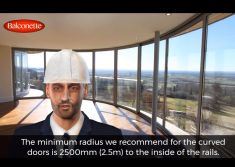 What is the Minimum Radius You Can Have in Your Curved Glass Sliding Doors?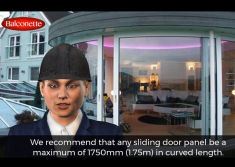 What Size of Curved Sliding Door Panel do You Recommend?
Related Links for Further Information:
Technical SpecificationsCurved Door Size Options
Get a QuoteGet a BrochureBack to Curved Doors FAQs