The Beauty of Balconette's Curved Doors
The Beauty of Balconette's Curved Doors
Glass Balustrades | Juliet Balconies | Curved Glass Doors | Decking | Projects | Galleries | Articles | Reviews
Outward or inward curving, Balconette's Curvaglide® range of curved glass sliding doors add the instant 'Wow' factor to any property. Suitable for installation in existing buildings or included in new homes or extensions, they are as practical as they are beautiful.
Inward or outward Curved Doors
Curved glass doors are available with either an outward curve (convex) or inward curved shape (concave) to suit your design. Outward curved doors are great for enlarging rooms, adding more useable space and introducing more light to the interior. Sliding panels allow immediate access to an outdoor terrace or balcony.
Or why not add a different dimension with an inward curve? Each Curvaglide® door set is manufactured to bespoke measurements, so your door is tailored to suit the specific requirements of your property and lifestyle.
This high-end product offers virtually limitless design possibilities to create a striking feature that 'brings the outside in'.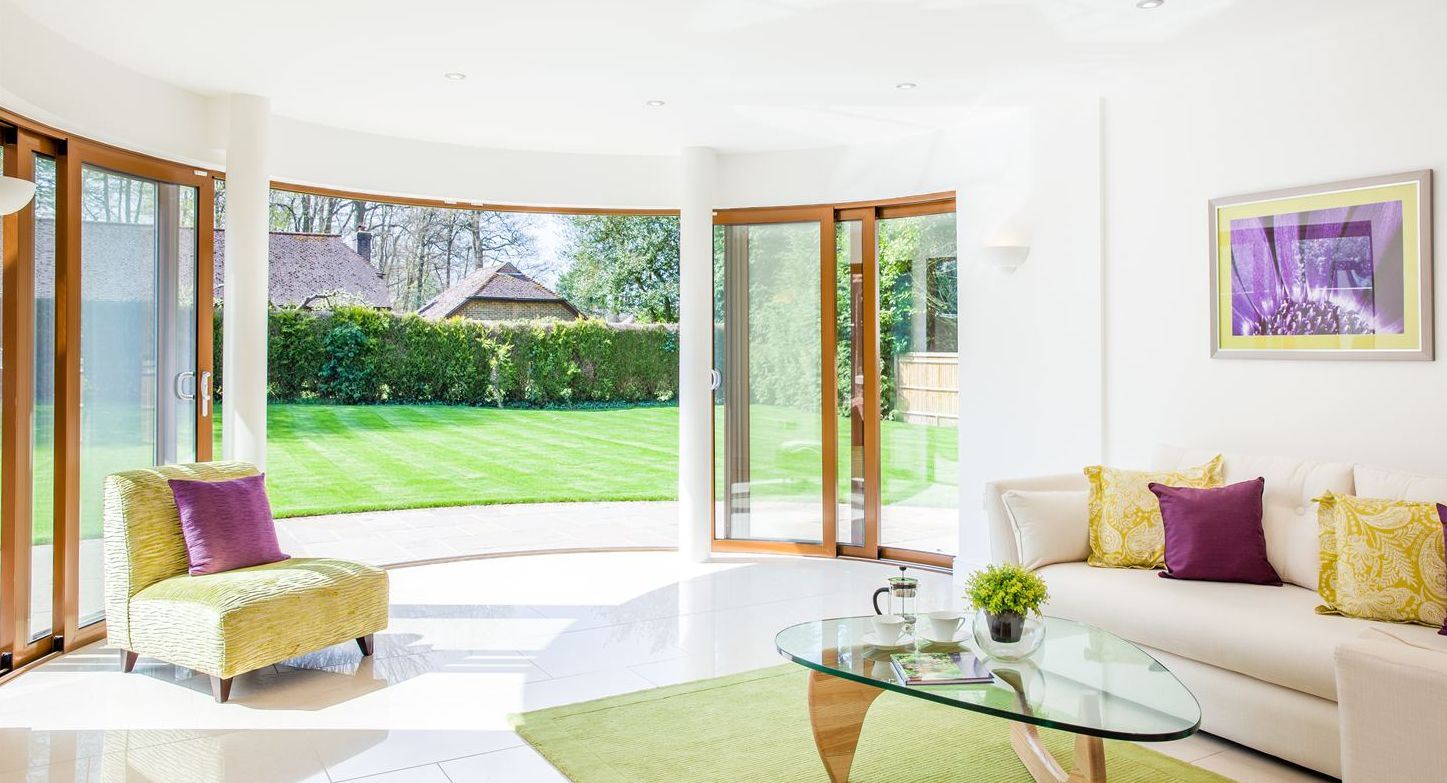 Design options with Curved Glass Doors
From a shallow curve to a fuller circular shape, the versatile Curvaglide® doors can be made to a wide range of radiuses. Our customers have installed them in living rooms, bedrooms, conservatories – even a home office taking advantage of far-reaching moorland views.
They can also be used in leisure, retail and commercial applications, such as restaurants, hotels and public buildings. For example, some of our largest doors have been installed at the Tate St Ives art gallery in Cornwall (22 metres across) and the Battle of Britain Memorial centre in Kent (19 metres wide). Check out our website gallery for ideas.
All Curvaglide® doors are manufactured with a high weather rating and thermally insulated aluminium sections. The 28mm high performance 'soft coat' Low-E double-glazing, which delivers a centre pane U value of 1.0 W/m2K, comes as standard with all Curvaglide® doors.
Likewise, all doors are supplied with toughened safety glass and a secure multi-point locking mechanism.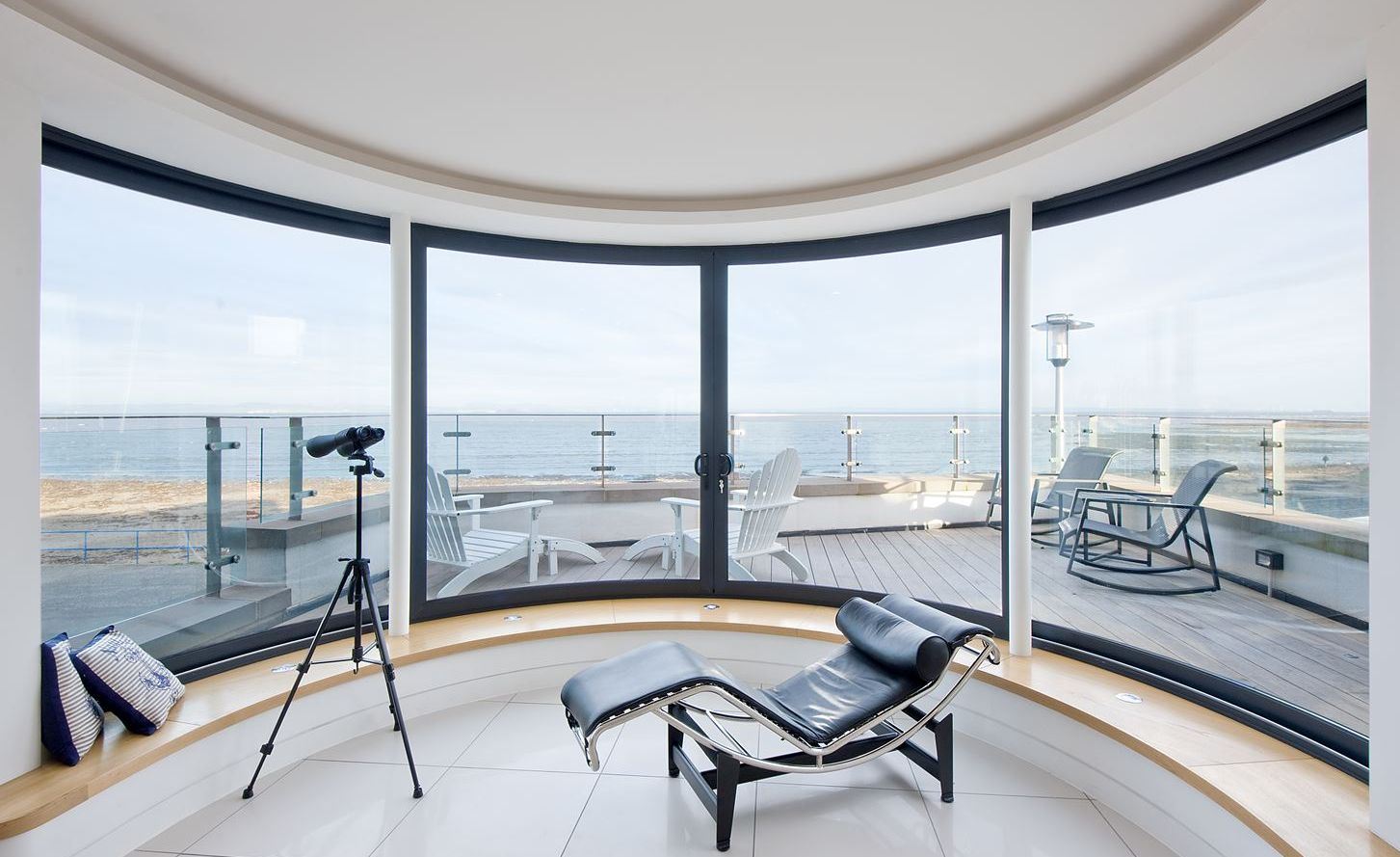 Curvaglide® Doors come in all sizes
Thanks to a wide variety of configurations, the Curvaglide® range of curved glass doors is adaptable to suit any aperture. Choose from two sliding curved doors (W2) up to an eight-door configuration (W8-4F) with four slideable doors and four fixed panels.
Designs can be customised, so the doors can be overlapped in a variety of different configurations.
Consult the Curved Patio Door experts
We have been manufacturing curved doors for more than 16 years. Thanks to advances in technology, they are readily available and more affordable than ever. By bending both the glass and aluminium components in-house, you can be assured of a smooth movement of the doors and a 'hand in glove fit'.
Our long experience of working with architects, specifiers and builders also means we can provide in-depth technical support and expert advice from conception to installation.
You can try our online pricing system and get a price instantly. Simply select the model you require or that best suits your needs and follow the link to enter the relevant details.
If you're considering investing in a Curvaglide® door from Balconette, we're here to help you make your decision a reality.