Wrought iron railings
Glass Balustrades | Juliet Balconies | Curved Glass Doors | Decking | Projects | Galleries | Articles | Reviews
Does anyone really make wrought iron anymore?
When talking about wrought iron, it is important to remember that wrought iron is not currently being produced in a large, commercial scale and nor has it been for some time.
The definition of wrought iron derives from the fact that it was shaped or manipulated, into its final position with term deriving from archaic times and literally meaning "worked iron". It is still possible to obtain genuine wrought iron and any authentic conservation work on historical structures requires this type of metal to be used.
The metal for such works can be obtained through scrap but as such, it is not commonly used in the railings and rails of today. The fact that it needs so much manual work and is not an industrial application renders it a lot more expensive.
Misleadingly called "wrought iron"
The wrought iron name is misleadingly still used to describe a number of products, including Juliet balconies, guard rails, gates and garden furniture but these are not constructed out of the wrought iron from previous generations, they are commonly made from mild steel and it is factually incorrect for them to be labelled as being made from wrought iron if they have not been worked by hand.
The intricate designs remain integral to iron railings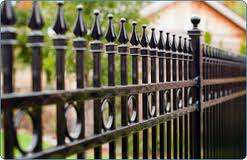 When it comes to modern wrought iron railings, what many people are interested in is the design and style of the railing as opposed to the make or metal that is actually used. There is no doubt that these railings have been a tremendous addition to homes, buildings and gardens for hundreds of years and this is the important aspect for people when it comes to choosing their railings. As long as the metal used is reliable and will last, the most important aspect relates to the style and design of the railings, which also helps to justify the continued use of the term "wrought iron railings."
The level of craftsmanship that goes into making wrought iron railings today is still comparable to the styles of previous generations and ages. Modern technology has provided a great number of advances in working with metals but many firms still provide a unique crafted finish which stands up very well against any historical design or railing.
A number of firms will work with their customers to create a unique design just for them but the majority of railing companies will be able to offer a range of wrought iron railings to adorn their home, buildings or land. Many of these are based on traditional styles of railings and allow for some uniformity across the product range. Some of the most popular styles of wrought iron railings include The Clifton, The Marlborough, The Monaco and The Picasso. This makes it easier for people who have noticed existing railings they admire to have the same feature applied to their home.
Fashion and functionality is important for iron railings
In addition to their style, REAL wrought iron railings are considered to be more rust resistant than railings made from other metals. This makes them the ideal material to construct external railings from as they should retain their finish and lustre for a longer period of time. Given the changeable weather conditions in the United Kingdom, external railings have to be able to withstand a lot of abuse and wrought iron workings give an added guarantee about retaining a good finish and quality.
It is this blend of fashion and functionality that has long marked wrought iron railings out as a classic way to line your premises and why they are still in very much demand today. It has never been easier to create a unique style for your home and these railings are a great finishing touch.
In one sense, then no, people do not make wrought iron railings in the way they used to because the metal is not the same. However, in the sense of manipulating metal into shape to create intricate designs and finishes, then yes, the wrought iron railing industry is alive and well these days, though greatly outnumbers by machine shops and newer technology based manufacture.
There is a current trend for wrought iron railings which has not been seen for many years with people spending more time and money on the look and décor of their home. Creating a cohesive and singular image for their home is essential for many people and their look can be completed by the inclusion of railings in the wrought iron style.