Tempered Glass Railings
Glass Balustrades | Juliet Balconies | Curved Glass Doors | Decking | Projects | Galleries | Articles | Reviews
Six more reasons to invest in tempered glass railings on your property.
Admit it. You're curious about adding tempered glass railings to your property.
You've heard others say they're a flexible option that suits a range of property types. And you know tempered glass railings can help transform a property into something rather special. But what about safety, maintenance and adaptability?
Safe and strong
Balconette's tempered glass railings are designed with safety in mind; all our products are designed to exceed British Safety standards. At 10mm thick and supported with anodised aluminium posts and handrails they're well suited to balconies at height or as railings around a decking area. Unlike wood which will rot over time or steel which rusts, tempered glass is hardwearing and won't succumb to environmental challenges such as bad weather or pests. Although glass has a reputation for being easily broken, tempered glass railings are incredibly strong; would you believe it's four times stronger than regular float glass? In the unlikely event that your tempered glass railings do break, you can rest easy. It shatters into small pieces which are easy and safe to clear up. Because they don't break into dangerous shards, you won't be on high alert frantically clearing away the broken glass in case of danger to children, animals or the general public.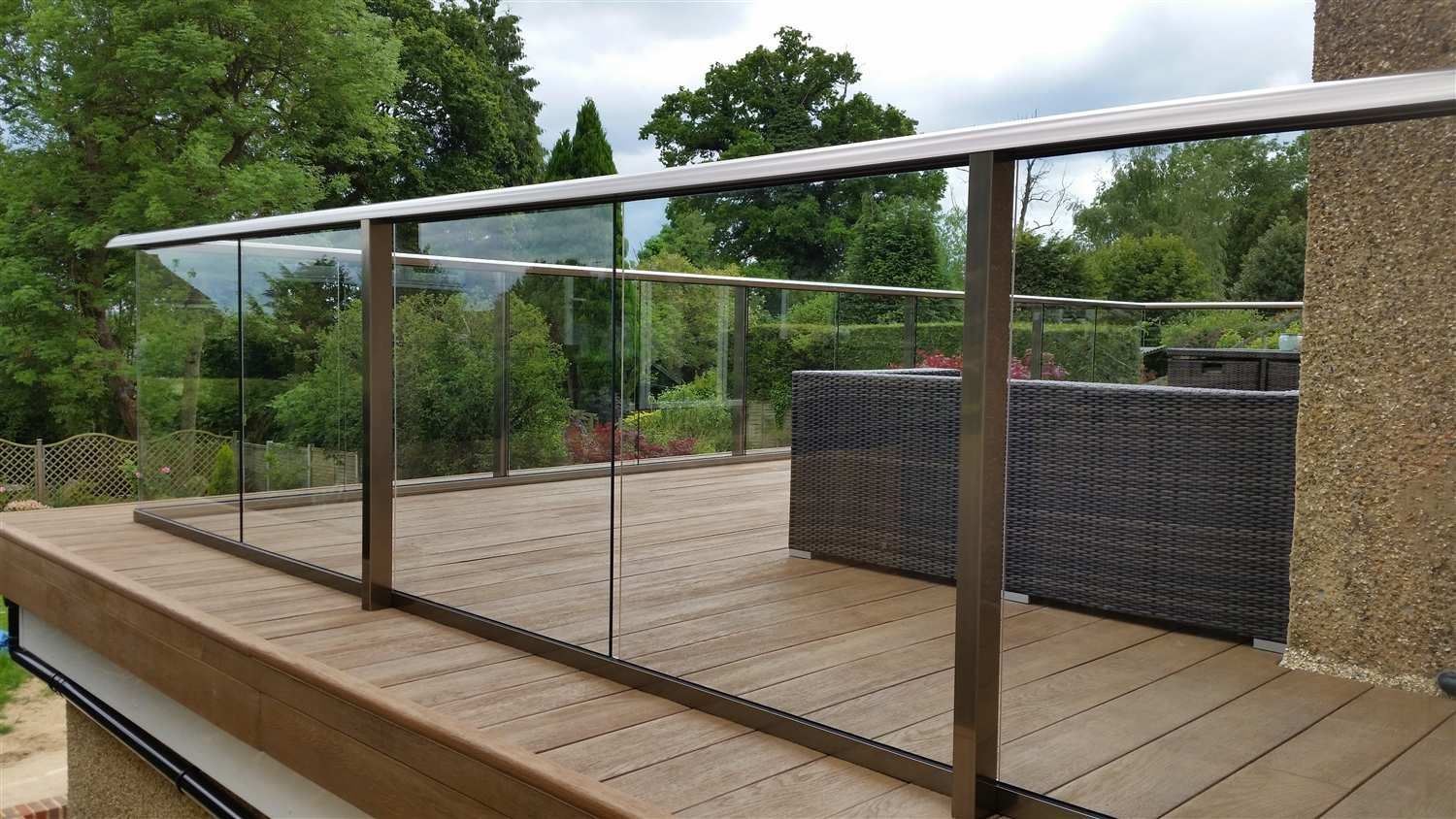 Better visibility
Prefer a better view? Then think about adding tempered glass railings to your property for an unobstructed view. The alternatives can't compare - wooden posts block light and look bulky, metal railings create a cage-like appearance, while bricks take up space and don't give you any visibility at all!
As well as improving the view when you look out of your windows and balconies, glass railings let in more light and increase a sense of space.
Easy to care for
If the thought of ongoing maintenance fills you with dread, then tempered glass railings might be a dream come true. Unlike wood or metal railings, glass railings almost look after themselves. A call to a window cleaner will keep them looking at their absolute best. If you don't fancy calling up a window cleaner - or if your railings are in an awkward location - choose glass coated with Balco-Nano® self-cleaning glass coating. This clever coating fills the microscopic pits on the surface of the glass to stop dust, dirt and mineral deposits building up. All it takes is a rain shower or a wipe with a damp cloth to remove any smudges or dust.
Not only is the glass on a Balconette tempered glass railing easy to care for, but so are the railings themselves. That's because they're made with anodised aluminium which stays looking good in even hostile coastal conditions. Want extra proof? All Balconette glass railings are supplied with a 10-year guarantee on the anodised aluminium finishes. How's that for peace of mind?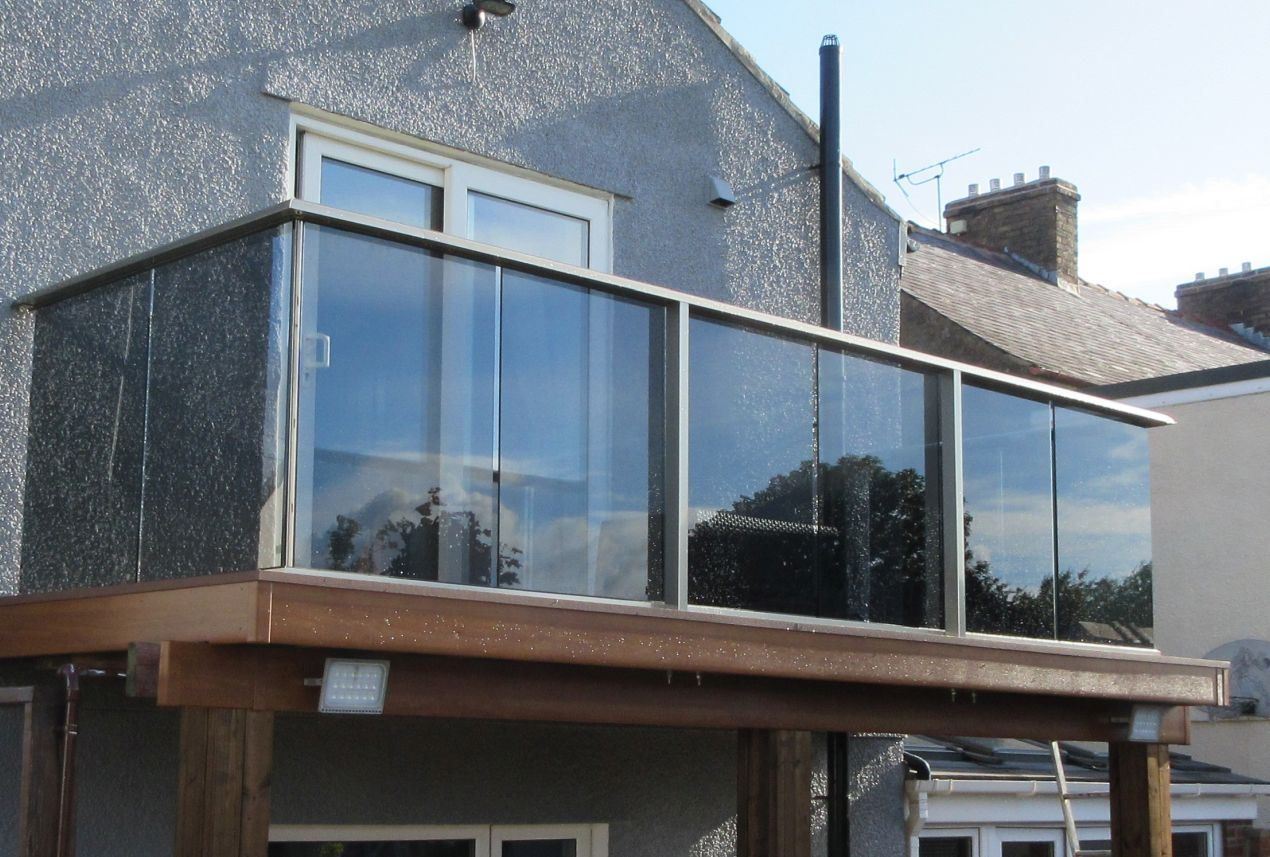 Kerb appeal
If it's kerb appeal you're after, then glass railings are the natural choice. From creating a slick headquarters building to redeveloping for a quick – and high-priced – sale, tempered glass railings tick a lot of boxes. Their stylish looks are on-trend and suit the open-plan, light, airy expectations that so many employers and homebuyers have.
Suit your style and design
Because tempered glass railings are so adaptable, you can use them in a wide range of projects. They're suitable for internal and external projects and can be used from ground-level all the way to penthouse apartment safety railings.
The modular style of Balconette's glass railings gives you the opportunity to adapt your railings to almost any building size and shape; from a single panel Juliet balcony to curved railings on an expansive terrace. And if you want to enhance your project with colour, you can also choose a variety of glass tints and handrail finishes to create a look that complements your property.
British made and attractively priced
All Balconette tempered glass railings are made in the UK so there's no lengthy shipping to slow down your plans. Our glass railings are well-priced, especially when you take the quality, excellent customer service and 10-year guarantees into account.