Outdoor Glass Balustrade
Glass Balustrades | Juliet Balconies | Curved Glass Doors | Decking | Projects | Galleries | Articles | Reviews
Why choose an outdoor glass balustrade?
For the perfect finishing touch to your external home improvement project, why not consider an outdoor glass balustrade?
Here at Balconette, we can offer a range of elegant and contemporary balustrading solutions that will enhance your external space or garden, whatever its size or shape.
Glass is the perfect practical choice for any location where there is a change of level requiring a secure barrier. Its transparency means you can enjoy unobstructed views and more light, while the panels protect you from the wind – even on the breeziest days.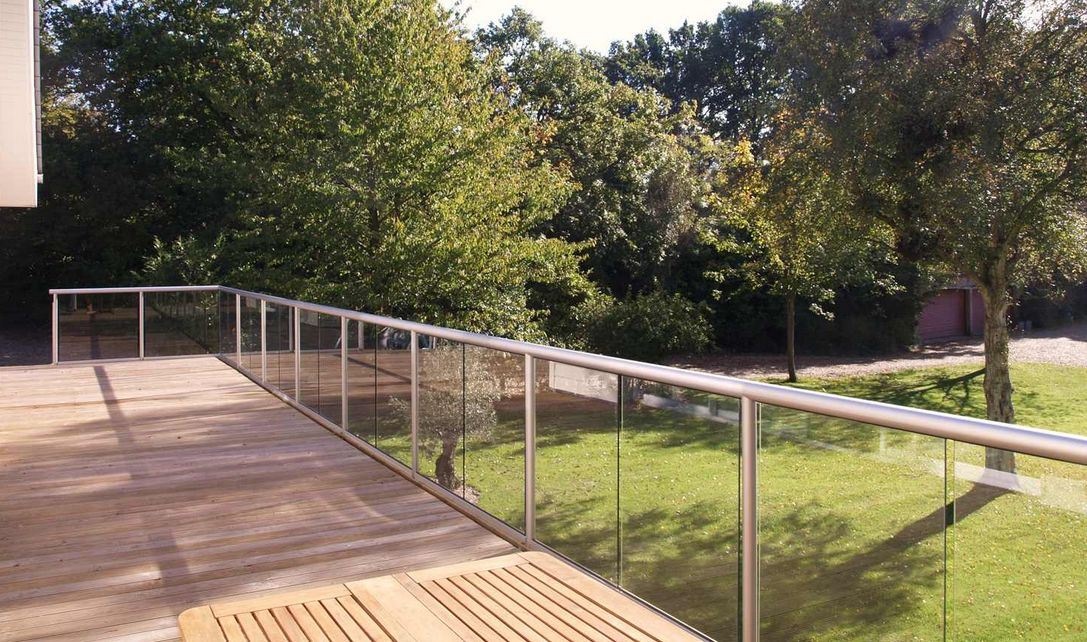 Where can I install an outdoor glass balustrade?
Balconette's versatile outdoor glass balustrading system can be used wherever a sturdy barrier is needed. Think external balconies, raised patios, garden or roof terraces, stairways and even swimming pool surrounds.
As glass balustrading can be built up to a height of 1.8 metres, it's an ideal choice for exposed locations protecting you and your plants from the elements.
Fitting our outdoor glass balustrades is straightforward and many of our customers have successfully installed them themselves. Detailed instructions are supplied and fitting videos, plus a customer helpline, are also available, should you need extra help. Alternatively, we have a network of registered partners who can fit your outdoor glass balustrade for you.
What types of outdoor glass balustrades are available?
Balconette offers a choice of outdoor glass balustrades that are available with or without a handrail (frameless) to suit individual preferences and locations. These outdoor glass balustrades can be installed above or below floor level.
Perfect for decking or mezzanine areas, the SG12 Fully Fameless System installed below floor level delivers a seamless 'floating' appearance and 100% uninterrupted views. A fantastic feature and great talking point for any garden!
Curved or Straight – it's your choice
Beautiful shapes can be created with outdoor glass balustrades from Balconette. Curved, straight, semi-circular or irregular designs can all be accommodated. If you have a particular design in mind or need help, we can work with you to achieve your desired result.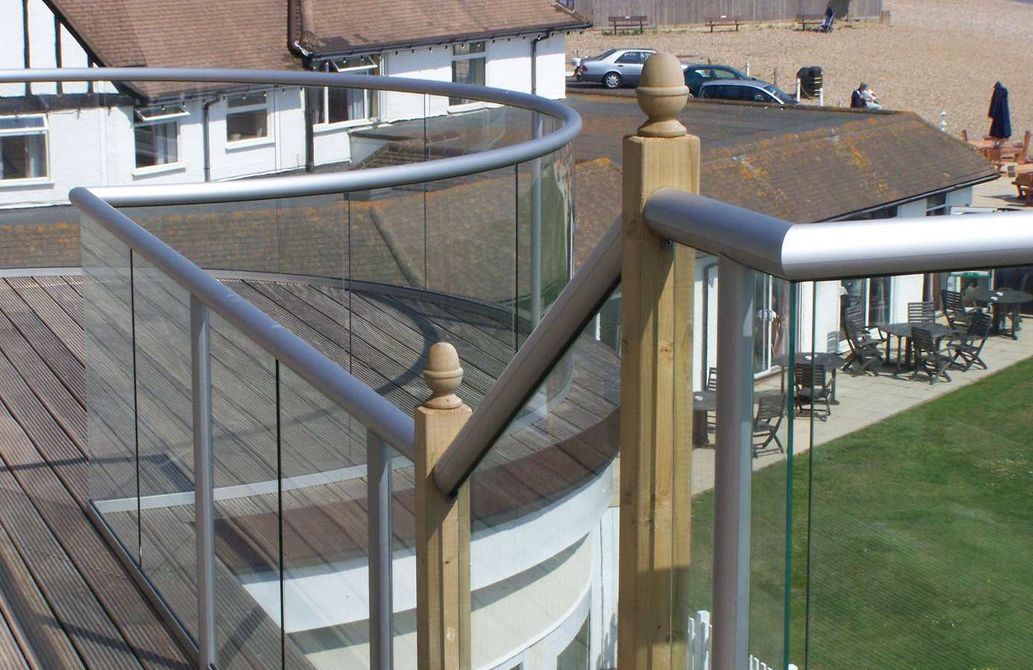 Add colour to your outdoor glass balustrade
Take a creative approach by adding colour to your outdoor glass balustrade. Glass can be clear, tinted or opaque to match existing style themes or enhance privacy. Two handrail styles are offered and available in four standard colours.
How do I maintain my outdoor glass balustrade?
Glass is so easy to care for, unlike other alternative types of balustrading such as wood or metal. With no sanding or repainting to worry about, you'll not only save money on future maintenance, but have more time to make the most of your outdoor space.
The need for cleaning is further reduced if you choose to fit glass with our BalcoNano® self-cleaning coating. The occasional wipe-down with a cloth and water is all that's needed to keep it looking sparkling.
Reassuring Quality
We pride ourselves on our quality balustrading systems. Every outdoor glass balustrade we supply comes with a 10-year guarantee on most finishes; you can be assured that your balustrade will continue to look good in years to come.