What to look for in Glass Railings
What to look for in Glass Railings
Glass Balustrades | Juliet Balconies | Curved Glass Doors | Decking | Projects | Galleries | Articles | Reviews
Contemporary Glass Balustrade
The latest contemporary look for many houses now being built or modified employs the use of glass railings to offer a feeling of space and uninhibited views. We have long since left the age of a square box that protects one from the elements to where now houses can be made into a thing of beauty and satisfaction.
There are varying degrees of systems as far as aesthetics, quality, corrosion resistance, price, maintenance, safety and versatility are concerned. These however, are the main points taken into regard in the purchasing of such a system.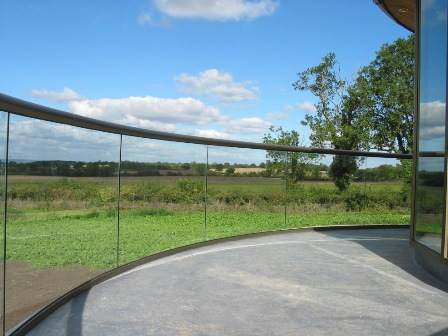 Value for money
Of course these are a matter of concern because everybody likes to get value for money and something that is going to last. Aesthetics is the overriding reason why such a system is being used in the first place. Some budget systems tend to defeat the purpose of such a system by the use of unsightly clamps to hold the glass panels. Whilst these glass clamp systems do offer a better view than metal railings, many home owners tend to steer away from such products as these clamps become a focal point in viewing the posts and interfere with view and spoil the overall aesthetics that such systems are trying to achieve.
There are several systems that use glass to provide an often panoramic view out of one's property. As discussed above, cost is a factor in any purchase, structural glass systems using only glass for structure with a U shaped shoe at the bottom (cantilever system) generally run 2-3 times the cost of other systems making them a prohibitive purchase and not a cost effective solution.
Cost effective alternative to Structural glass
Our Balcony 1 System and Balcony 2 System achieve greater strength with an astute design that channels all forces into the frame so the toughened glass is not bearing the structural load.
Using 10mm glass and no clamps or lugs, these systems seem to be a much needed and cost effective alternative to the costly structural glass options.
Corrosion on balustrades
With the variety of systems on the market the material that railings are constructed of is noteworthy. You don't want to make an investment into your house just to find that system suffers from rust a few months or even years later. Hitchiner has carried out rigorous tests on most stainless steel alloys in environments in both the United States and Europe, these show that in a few years most stainless steel alloys will both rust and have white corrosion forming on them. These tests also revealed that if stainless steel railings are regularly kept clean, they will not corrode for many, many years. This necessitates the regular cleaning and maintenance of stainless steel rails for the prevention of corrosion. Stainless steel after all is a product that has been created out of alloys that have modified a product, steel, which naturally oxidizes.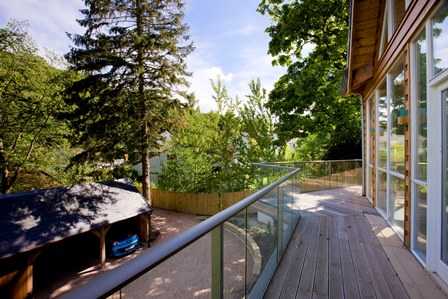 What is then the ideal material for corrosion resistance?
It is apparent from the above that the ideal material would be a product that naturally doesn't rust nor react negatively to the elements. Aluminium has become a natural choice due to it possessing such qualities. You can also harden and protect aluminium and give it all the advantages of other metals, but none of the drawbacks. This process is called anodising and the result is an extremely hard substance called anodised aluminium which can be nearly as hard as diamonds. Because of its strength and durability, anodised aluminium is also used in a number of other applications; modern buildings facades, satellites circling the Earth and the automobile industry relies heavily on anodised aluminium for trims and protective housings for exposed parts.
Royal Chrome anodising
To get the best of both worlds we have introduced an anodise that replicates the colour, shine and feel of stainless steel but made of anodised aluminium alloy.
Our systems are almost maintenance free products and leave you with the enjoyment of your now revealed beautiful views, not the hassle of having to wipe down all the surfaces repetitively to avoid corrosion, as in other metals. Due to this fact, this type of product is extremely popular in marine environments.
We have manufactured our glass railing system specifically to meet and exceed the major points that a person would look for in such a system, which are aesthetics, quality, corrosion resistance, price, maintenance, safety and versatility.
Aesthetics
Our system has a very clean, contemporary look, with no clamps interfering with view. It can span over 12 feet between walls before needing a vertical post. Due to the strength of our system it requires no corner posts and thus provides a more panoramic view.
Quality
Our system is crafted out of anodised aluminium offering a very tough, naturally corrosion resistant product. Due to the quality and strength of our system it is one of the only ones on the market today backed by a 10 year warranty.
Corrosion resistance and maintenance: The product is corrosion resistant and doesn't require being wiped down to prevent the metal from oxidizing.
Price
Though an extremely high quality system, it is very competitively priced and generally runs between half or a third of the cost of equal lengths of structural glass or cantilevered systems.
Safety
The systems we offer are backed with load testing information and structural calculations to prove adherence and conformity to building regulation requirements and British standards.
Versatility
Our product can be installed on new builds and existing structures alike and is manufactured specifically with installation in mind. We can manufacture a wide spectrum of radii and curves.
Accompanying this is our 3D downloadable installation video on our web-site showing the ease of installation. Click here to see it: (link to installation video)
We feel that our product gives a perfect balance of what one would be after in such a system and backing this, our glass balustrades are a leading product in the UK and are being sold internationally in countries around the world.