Glass Balustrades for Stairs
Glass Balustrades for Stairs
Glass Balustrades | Juliet Balconies | Curved Glass Doors | Decking | Projects | Galleries | Articles | Reviews
Glass Balustrades for Stairs Internally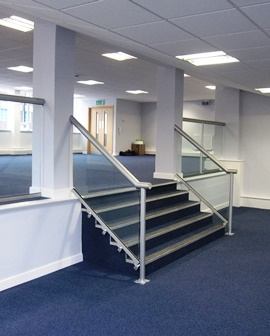 A glass balustrade for stairs allows light to flood in without the usual visual interruptions.
While we do not manufacture whole staircases, we do provide beautiful glass balustrades with anodised aluminium handrails that look fabulous.
We can customize the angle of the glass to go with many configuration of stairs and with our self-cleaning glass coating, they are almost maintenance-free!
For pricing, please contact us and we'll provide you with a quote rapidly.
Glass Balustrade for External Stairs and Steps
Glass balustrades to accompany steps and stairs are very well-suited to external use. We adapt our systems that were originally designed for balconies, to angle down exterior staircases, whether or not the steps lead off a balcony.
Now, you can enjoy glass balustrading not only around balconies and decks but alongside the steps leading from these structures, as well!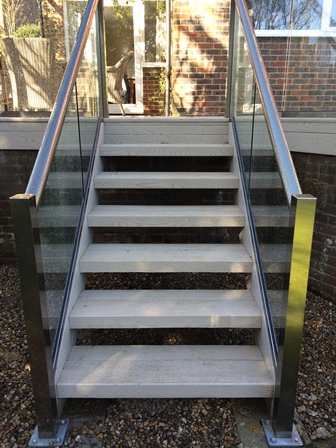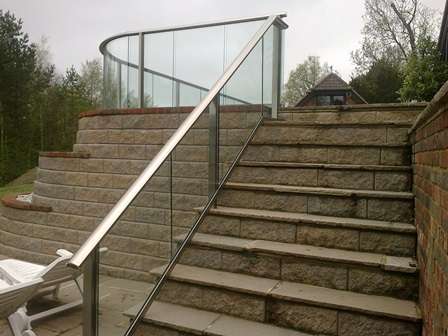 Glass Balustrades for Stairs – Technical Details
Here is a movie called Can the Balcony System be Used on Stairs?
https://www.youtube.com/watch?v=0eiuz1E-1JU
After so much success installing our innovative glass balustrade balcony systems, we responded to requests to develop a glass balustrade for stair systems. With the addition of our newel post and customizing the angle for each run of stairs, we are able to create glass balustrades for almost any stairs.
For more details on what we can and cannot provide in terms of a glass balustrade for stairs, please click on this link: https://www.balconette.co.uk/articles/glass-stairs-handrails.aspx
For more information glass balustrade for stairs, call 01342 410411 today!