Glass Balcony
Glass Balustrades | Juliet Balconies | Curved Glass Doors | Decking | Projects | Galleries | Articles | Reviews
Glass Balcony Explained
Glass balcony has become very popular as a search term.
The funny thing is that a true glass balcony would be a little bit like Cinderella's glass coach and be entirely made of glass. This isn't exactly what we manufacture and sell.
All balconies, to be safe, need a waste high barrier (1.1m here in the UK) to prevent accidents, as well as giving someone a secure structure to lean against. In a glass balcony, this wall is made of glass to allow someone inside the building to experience the best views, this also has an aesthetic architectural value from the outside.
A glass floor is not really necessary for this purpose and might give one vertigo if looking down past one's feet to see the ground below.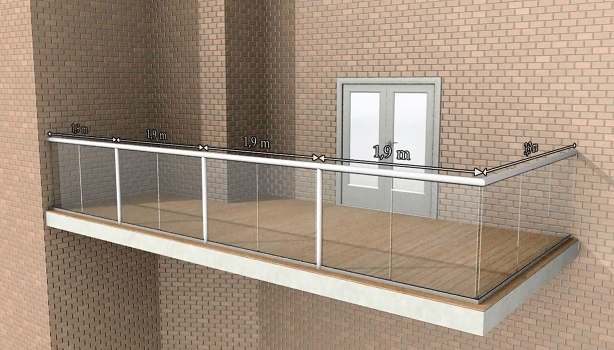 So, What's a Glass Balcony Really?
A "glass balcony" is a bit of a misnomer but is used a lot, so here is an explanation. What we call a glass balcony consists of decking, that would be built by your builder, then secured to the deck would be a low wall in very strong glass, more correctly called a glass balustrade and you might or might not have a metal railing, depending on the type of glass balustrade you choose.
Glass Balcony Types and Costs
Glass balustrades come with and without handrails and posts. In general, the less metal used, the heavier the glass and the more expensive. Our most popular glass balcony starts at £199/meter (ex-VAT) and our most expensive starts at £433/meter (ex-VAT). Our Fully Frameless Glass Balustrade needs the thickest glass, so costs the most. It also needs more support at the base, which your builder will be happy to build for you, but will generally cost more.
Glass Balcony Options
Our railings and posts are created from anodised aluminium that can made with almost any colour and finish. Our most popular is Royal Chrome which looks like stainless steel but is treated to be truly stainless. We can also customize curved balustrades in glass and even make curved sliding doors and windows. So, your balcony in glass can be constructed in almost any shape or look.
We highly recommend that you order the self-cleaning glass option with your glass balcony, which will save you lots of time cleaning.
If you are even thinking about including a glass balcony in your building project, please feel free to call us and speak to a friendly expert today!