Curved Railings and Balustrades – Paint Finishes and Anodising
Curved Railings and Balustrades – Paint Finishes and Anodising
Glass Balustrades | Juliet Balconies | Curved Glass Doors | Decking | Projects | Galleries | Articles | Reviews
When we are curving balustrades and when we deal with curved balustrades it is better to use powder coated finishes or painted finishes rather than anodised finishes. Anodised finishes are a hard brittle surface and so on occasion and depending on how small the radius is you will see stretch marks or crack marks from the bending. This is unavoidable and we don't know the extent until we've curved the balustrade.
Paint can stretch
With paint finishes the paint can stretch and doesn't have the same issue as anodising. Therefore when we are dealing with curved balustrades we recommend using a paint finish, a RAL colour or a white colour.
In the pictures below: Example of colours of Curved balustrades
Possible stretch marks on bending
Despite the potential stretch marks, customers still request curved balconies be supplied in our proprietary Royal Chrome anodise finish, silver anodised or other anodised finish.
We have pictures on file and available of what these stretch marks are likely to look like. Some customers find these marks of no consequence and some decide that these are not acceptable. It is very important to have a correct expectation on the end result.
In the pictures: Examples above show the possible stretch marks that can occur on anodized rails that are curved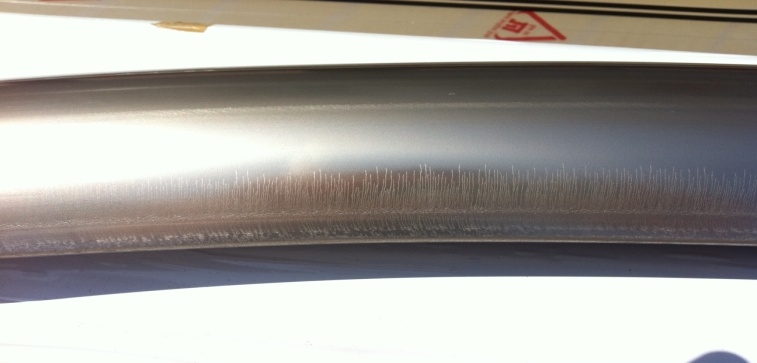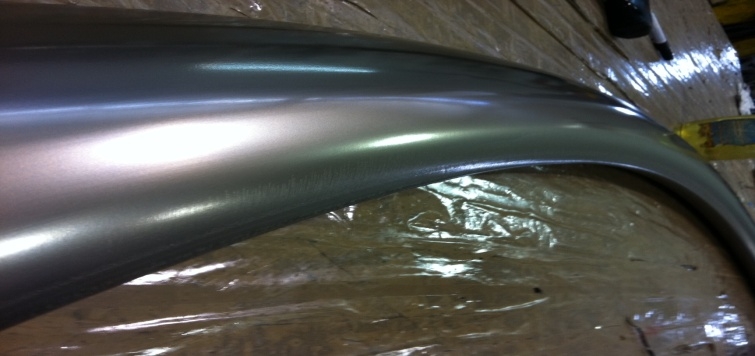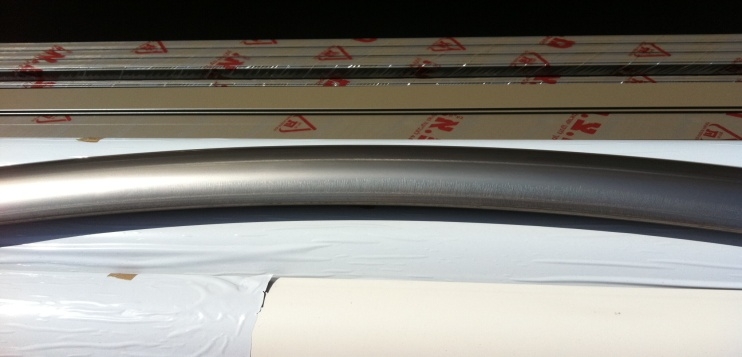 Installation by an experienced fitter
Another important note when placing an order for curved balustrades is that we recommend that an experienced fitter who has fitted curved systems of ours be employed to install such a job.
Curved railings are not as straightforward installation wise as are straight or flat balustrades. Things that come up are things like the top glazing bead not coming out and has to be left in, extra manipulation of the curved glass and such like. All of these will require an experienced installer.
An inexperienced installer may find it difficult to overcome some of these issues, possibly thinking that elements do not fit, when in fact they do and can be made to work. An experienced installer will be able to overcome or will be able to do without having to refer to us. Fewer problems occur when an installer that is experienced with installing curves is employed to do the installation.
We recommend using Balcony 1 System
We recommend using The Balcony 1 System when ordering curved balustrades. Balcony 1 profile section is smaller than the Balcony 2 system, having a 70mm diameter compared with 116mm depth of the Balcony 2. It's easier for us to bend the Balcony 1 systems and this system has less problems on installation when bent.
We can curved or bend the Balcony 2 System. Whenever a client is requesting specifically for Balcony 2 Systems Handrail to be used it will be important to understand that the described issues above will apply and possibly more severely so.