Costing a Glass Balustrade
Costing a Glass Balustrade
Glass Balustrades | Juliet Balconies | Curved Glass Doors | Decking | Projects | Galleries | Articles | Reviews
What is the Price of Glass Balustrading?
Costing a glass balustrade couldn't be easier with our online pricing guide.
Just click on the above link and it will walk you through the various choices available and there is even a category for a costing a custom glass balustrade.
Our most economical glass balustrading costs begin at £176 per metre + VAT. This has a simple handrail and minimal posts. These glass balustrades are called the Balcony 1 (Bal 1) and Balcony 2 (Bal 2) models and you can see that Bal 1 has a traditional rounded handrail and the Bal 2 has an aerofoil handrail.
Our next balustrade is called the Semi-Frameless Glass Balustrade because there are no supporting posts and these start at £317 + VAT; and our most expensive but almost invisible balustrade is called the Fully Frameless Glass Balustrade and starts at £318 + VAT and is entirely supported at the base.
To understand the difference in pricing between models, it is necessary to know that the more frameless the balustrades, the heavier the glass needs to be to provide the needed support without the metal frames and this adds greatly to the cost. Our most expensive balustrading provides an almost invisible barrier and is often use to showcase the best views.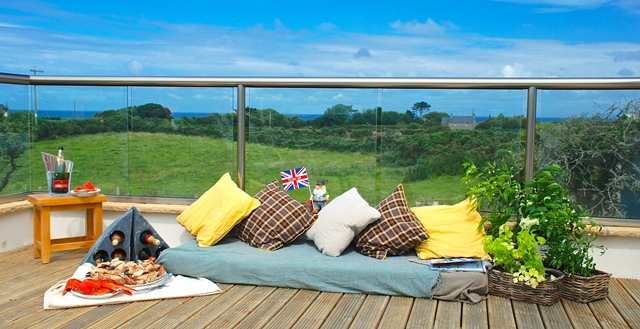 Additional Options
Our standard railing colours are White, Silver, Bronze and our proprietary Royal Chrome (which is made to look like stainless steel but in fact is truly stainless due to its anodised protective coating).
In addition, we provide custom-curved glass balustrades (as well as curved doors and windows) and many different configurations and forms of glass balustrading.
So, although glass isn't the cheapest balustrading you can buy, many people find that they save a lot of time and money in dealing with a reliable and accommodating manufacturer when costing a glass balustrade with us.
To find out how you can save time and money in costing your glass balustrade, contact us today!