Rules of Maintenance (Stainless Steel)
Rules of Maintenance (Stainless Steel)
Glass Balustrades | Juliet Balconies | Curved Glass Doors | Decking | Projects | Galleries | Articles | Reviews
Stainless steel is widely in use for balconies and handrails. Many apartments now have a stainless steel balustrade or stainless steel handrail. Stainless steel is known for its ability to be a clean surface that resists corrosion and rust. Dirt, dust and grime, however, put stainless steel at risk for corrosion, contamination and rust. Luckily, stainless steel responds well to cleaning, never wearing out from excessive cleaning, as long as certain rules are followed.
1. Water and a cloth. Routine cleaning can be accomplished by using warm water and a cloth. This is the least risky option for cleaning stainless steel handrails. Dry with a towel or cloth to prevent water spots. Wipe in the directions of the polish lines.
2. Mild detergent, (dish washing liquid) and cloth. If the stainless steel handrail exhibits corrosion marks or contamination marks, or has been a long time since last clean and for cleaning that needs more power, mild detergent and warm water can do a great job without damaging the stainless steel. Make sure you rinse the surface thoroughly to prevent staining and spotting d using a towel to prevent water spots which can be caused by minerals such as calcium in water (hard water).
3. Glass cleaner for fingerprints. Fingerprints are one of the biggest complaints about stainless steel handrails and parts, but can be taken care by using glass cleaner. Rinse thoroughly and towel dry. There are some newer types of finishes for stainless steel that resist fingerprints.
4. Stainless Steel Cleaner. If the handrails have had staining or scratching, or need to polish your stainless steel balustrade, a stainless steel cleaner may be a good option. Some of these cleaners and polishes can help minimize scratching and remove stains. They also can polish stainless steel surfaces nicely. Read the directions on the stainless steel cleaner and test in an inconspicuous spot. Be sure to rinse thoroughly and towel dry.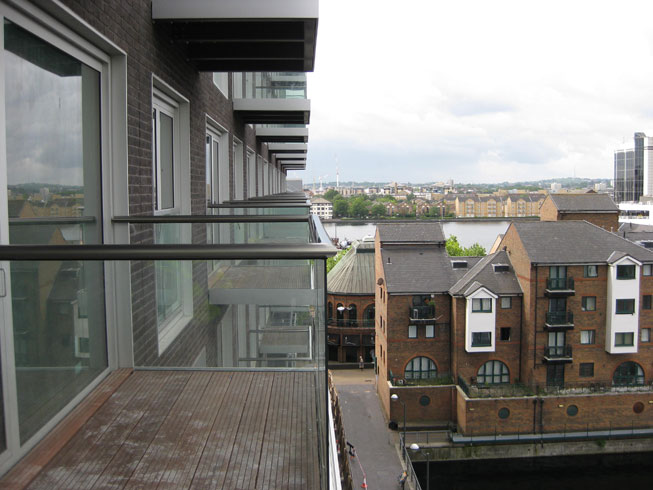 Using the guide above you should be able to keep the look of your stainless steel handrails and balustrades clean and looking new for years and years.
Low maintenance finishes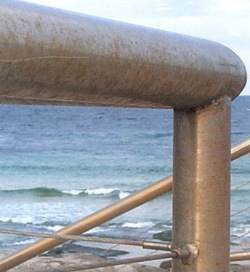 Stainless Steel not Maintained
Balcony Systems offers you a low maintenance alternative to stainless steel in the form of an innovative stainless steel lookalike called "Royal Chrome" having all the visual effects of a polished stainless steel handrail, the Royal Chrome finish is an anodise finish that is extremely corrosion resistant and employs no welding whatsoever.
In short the Royal Chrome anodise finish will not require regular cleaning or polishing and we offer a 10 year guarantee on this finish.
As one example of the durability of the product we revisited a site with over 300m of Royal Chrome balconies, originally installed in 2007, on the sea front on the south coast in West Sussex. To read more on this and the rave review from the client please follow this link: https://www.balconette.co.uk/blog/index.php/glass-balconies-by-the-sea/