Fascias for Balconies
Glass Balustrades | Juliet Balconies | Curved Glass Doors | Decking | Projects | Galleries | Articles | Reviews
Balcony edges and maintenance issues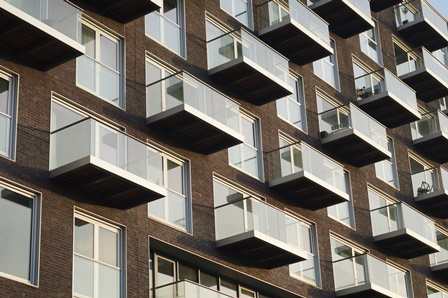 Balcony edges, whether made of concrete, metal, wood or another material, when left exposed, present a maintenance problem. Water that runs down the face of the balcony usually causes discolouration or mark on this face. Access is a problem to clean, repaint or maintain and this edge becomes an additional area that needs to be addressed when designing, renovating or replacing balconies.
Aluminium Facias
There are several options to choose from when finishing balcony edges. But to give a nice finish to balconies the best solution is to use an aluminium facia.
The aluminium fascia achieves several things
Clean cover and finish to the edge
Long term protection of the balcony edge from weathering
Can be sued to hide connections, or unsightly bolts and metalwork, in particular on steel cantilevered balconies.
Can be sued to add a new colour dimension to a slim line and add an architectural feature to the building.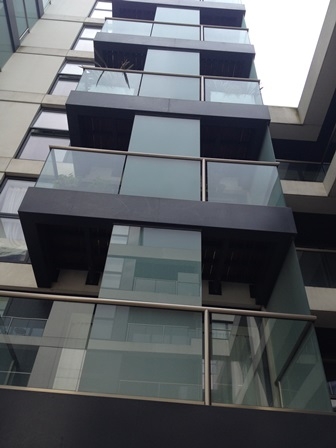 Extruded fascia vs folded or formed
Depending on the extent of the project different solutions can used. If the project is extensive enough then a specific profile extrusion can be developed to suit the exact design of the project. The advantage of doing this is in the ability and flex ibility of creating aluminium extrusions. Almost ant shape can be achieved, features added and connections created. As an example you can read about fascia sections we developed for a project in London with some 400 balconies called
Baltimore Wharf. In this solution we created two unique fascia sections, one 295mm and one
215mm is size. These suited two different metal balcony sizes.
Not all projects can have a section created for them and these can still have a fascia developed by way of folding sheet aluminium. This method is just as good and suits smaller project sizes.
Designs are almost limitless
We like to get involved with projects and their designs a he outset. Our capabilities in developing specific sections, including aluminium fascia profiles and designs that give solutions are almost limitless. If you think your project could do with some design help or solutions please contact us to discuss.